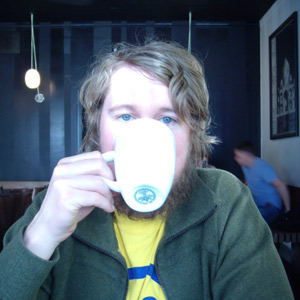 Canadian artist Mark Templeton utilizes a background in acoustic music and instruments such as the guitar, banjo and accordion to compose electro-acoustic music using said instruments and a variety of effects processes. Since the release of his critically acclaimed Standing on a Hummingbird in 2007, his sound has been called "pastoral," but also "painterly" in an attempt to describe how his instruments are crumbled and reconstructed into new forms; a process further developed and realized on his 2009 release, Inland.
Templeton's works have been commissioned by organizations of contemporary dance, film and audiovisual disciplines. His live performances have at times been accompanied by Edmonton-based experimental filmmaker aAron Munson's visuals. In 2009 this ongoing collaboration resulted in the release of M. Templeton & aA. Munson: Acre Loss on CD and DVD.
Templeton has performed at international festivals and alternative spaces such as MUTEK Festival (Montreal), Unsound Festival (Krakow), Eat This Festival (Utrecht), Galapagos (New York), Latitude 53 (Edmonton) and Suoni Per Il Popolo Festival (Montreal).
M. Templeton + aA Munson - Acre Loss
Anticipate 009 - released February 2009 - CD + DVD / digital
Acre Loss is a collaborative project which brings together musician Mark Templeton and filmmaker aAron Munson to create 10 musical compositions accompanied by 10 short films. Working together on all pieces of this project, the resulting blend of electro-acoustic orientation and cinematic warmth gives Acre Loss an unusual, yet familiar perspective into the impact of a fleeting sense of home.
Guitar, banjo, a host of both home and outdoors-based field recordings, and sounds derived from those ingredients, dominate the musical aspect of Acre Loss. Kitchen utensils in use and the atmosphere of being just outside that kitchen in a cold Canadian morning accompany the subtle processing of string instruments. Wrangling in softer elements with rough-around-the-edges distortion, these pieces clearly delineate melodies, while housing them at the center of waves of heavy ripples of effects, retaining Templeton's sonic personality while clearly making space for his collaborator. Affective sound structures bring the visual component into focus, with the ability to act as specific sonic events or as soundtrack. Though the music stands alone as an album, it is more fully realized and understood in the short, hazy bursts of the intertwined visual material, contributing to the sense that together they are parts of a more complete object.
An unhurried pace characterizes both song and film in Acre Loss, as both find their identity in texture and tone. Languid passages portray a close proximity to both setting and character, even if there are no strict translations around either. The use of film rather than digital video along with the artists' treatment of said film, transforms the pieces into layered explorations, just as the songs they are part of. They rest in a time and sense which is neither futuristic nor overly gazing backward, but more akin to memory realized within a current visual language; bridging ideas of dreamscapes and focused, every-day reality into a single statement. The overwhelming tendency is one which feels at once physical, of this immediate world and comforting, as well as distant and uneasy.
The strengths of this work lie in the knowledge and perspective brought to it by each collaborator, while allowing for the shift in perspective which comes from opening up the working process to another, who comes from a different set of skills, yet understands the complementary abilities and possibilities of the other's medium of choice. Mark Templeton is best known for his critically acclaimed Standing on a Hummingbird album (Anticipate, 2007), though he has been active in the Edmonton, Alberta music scene for years (previous to his recent move to Montreal). aAron Munson is an Edmonton-based filmmaker whose work has taken the form of more than twenty short films, as well as several installations and performances with musical artists (including with Mark Templeton at MUTEK 2007). aAron uses Super 8 and 16mm film with overtly modern cinematic processes to find the best of different times and technologies. His work has been recognized and supported by the National Film Board of Canada and is being exhibited at film festivals around the world.